The IOB is a registered FARM TEACHING AGRIFATTORIE of the province of Viterbo and part of the Network CAMPAGNA AMICA.
With garden , classroom and teaching apiary , natural theater , "green island" , a pool of constructed wetlands , solar and photovoltaic panels , allows you to organize study days on the delicate balance of the environment and the importance of respect for nature, as well as on issues related to the traditions of the territory and to agricultural production .
kind
ergartens , primary and secondary
pupils have the opportunity to visit the bees in total security with leotards by beekeeper and apiary it's properly protected , may assist the extraction of honey and taste the sweet taste , as well as packed with beeswax candles.
take care of the donkeys , play and work with them allows you to bring children to this extraordinary animal , for centuries man's side and has now almost disappeared : a valuable opportunity to explain, simply , the major changes
in the agricultural world .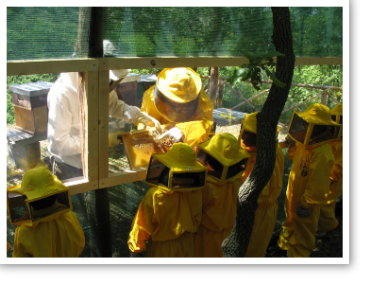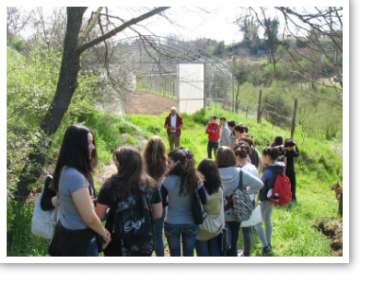 middle and high schools and universities
Organic and biodynamic farming , biodiversity:
an example of environmental sustainability in an agricultural context of quality in accordance with the present and the future , in harmony with the cosmos
and more .... WITH ADULTS:
Tastings of honey and oils :



origin , organoleptic characteristics and use of two extraordinary food on our table with tastings and pairings.
theoretical and practical lessons to learn about the wonderful world of bees, to manage their hives and produce excellent honey .
Seminars and theme days biodynamic agriculture .



The company is often involved in projects of social agriculture , in which he believes strongly , proposed and realized in collaboration with schools , local health authorities and local associations :
A FRIEND DONKEY in collaboration with the Isituto including " G.Rodari " Vetralla and the Province of Viterbo : days on the farm aimed at children with different issues that , with contact with animals and other outdoor activities, have had the opportunity to experience important moments of involvement and socialization .

school-work in collaboration with the IIS "F. Orioli "in Viterbo : a training course , sponsored by the Institute , which was designed to allow children with school problems to live moments of contact with the real and concrete work to stimulate motivation and commitment.

DIVERS @ ably : A SEED FOR GROWING INTEGRATION : POR project proposed and implemented with IIS "F. Orioli "in Viterbo : another interesting experience involving students , teachers and tutors in the activities of the farm : the boys were able to live outside of enclosed spaces of the classrooms , a moment of peace , understanding and , at the same time , stimulate the responsibility and commitment.

DICTIONARY FOR SUSTAINABILITY ' ENVIRONMENTAL : in collaboration with the Association of MIDA ( Interactive Modules for Environmental Education ), through the meetings the boys have had the opportunity to discover, experience and learn about reality and often unknown opportunities and gain a greater sensitivity to the multifarious possibilities of environmental sustainability.

In collaboration with local health authorities of the territory has sometimes hosted boys with autism and psychological problems with the aim of giving them, through nature and contact with animals , short , but important , moments of serenity and participation.
Many of the activities that take place in the company involve collaboration with research institutes (University of Tuscia) , associations and seed companies biological networks (semi rural Arcoiris) who find professionalism and participation in agricultural projects that aim to identify farming systems compatible quality products.
At the farm, also for educational activities and social by cultural associations ( the Nettle ) and social ( the Seeds ) that are in the farm, space and material to carry out further environmental education activities and food.
With its donkeys is a member of " THE DONKEY " which brings together national realities that raise the donkey for therapeutic purposes , playful, hiking or company with the common objective of safeguarding and promoting the characteristics of this wonderful animal which , even today, much to us and teach us.
It is also part of the international " WWOOF : worldwide movement that brings together volunteers and projects promoting rural natural and cultural educational experiences based on an exchange of trust nonprofit , to help build a sustainable global community ." Every year it hosts students and volunteers from countries often far : a further opportunity to meet reality and possibilities , but similar in intent and objectives , for comparison and a continuous enrichment .